Romeo Robot: Smart Humanoid Robot
0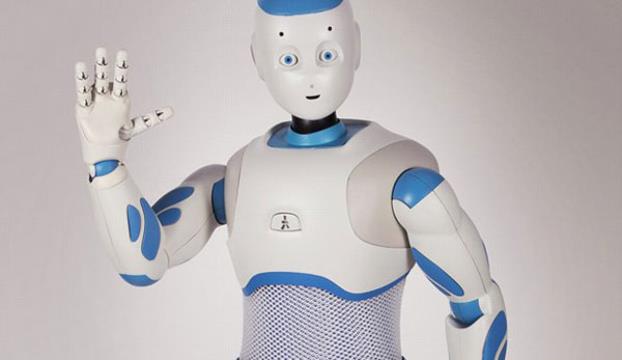 Romeo Robot, Romeo
Romeo Robot has been conceived to one day work as an assistant to elderly persons, to lengthen the time that they can continue to live independently in their own homes. Romeo is be able to walk up stairs, support people that have difficulty walking, or fetch objects from another room by himself. Romeo can also remind his owners of appointments or tell them when to take their medicine. He does all of this with a certain human touch. Romeo robot has only been presented to the general public this year, in a revised version. There is a reason for the long development period. Although the developers already have extensive experience through their work on Romeo's smaller brother, Nao, of which 3000 models have already been sold, making a robot larger is not so easy.
Specifications (Romeo Robot):
| | |
| --- | --- |
| Weight | 36.6 kg |
| Height | 146.7 cm |
| CPU Processor | ATOM Z530 |

Articles (Romeo Robot):
"Romeo - Maxon Motor"
---
Head (Romeo Robot):
| From ... | To ... | X (mm) | Y (mm) | Z (mm) |
| --- | --- | --- | --- | --- |
| Torso | NeckYaw | 0 | 0 | 93.5 |
| NeckYaw | NeckPitch | 0 | 0 | 0 |
| NeckPitch | HeadPitch | 0 | 0 | 95.11 |
| HeadPitch | HeadRoll | 0 | 0 | 0 |
Hands (Romeo Robot):
| From ... | To ... | X (mm) | Y (mm) | Z (mm) |
| --- | --- | --- | --- | --- |
| LWristPitch | LFinger1 | 109.37 | 24.68 | 3.29 |
| LWristPitch | LFinger2 | 115.25 | 0.00 | 3.29 |
| LWristPitch | LFinger3 | 99.36 | -24.78 | 3.29 |
| LWristPitch | LThumb | 71.15 | 24.65 | -12.33 |

| Joint name | Motion | Range (degrees) | Range (radian) |
| --- | --- | --- | --- |
| LShoulderPitch | Left Shoulder joint (Y) | -82.7 to 127.2 | -1.44338729 to 2.22005880 |
| LShoulderYaw | Left Shoulder joint (Z) | -24.7 to 65.3 | -0.43109632 to 1.13970000 |
| LElbowRoll | Left Shoulder joint (X) | -120.0 to 120.0 | -2.09439510 to 2.09439510 |
| LElbowYaw | Left Elbow joint (Z) | -90.0 to 0.0 | -1.57079633 to 0.00000000 |
| LWristRoll | Left Elbow joint (X) | -210.0 to 30.0 | -3.66519143 to 0.52359878 |
| LWristYaw | Left Wrist joint (Z) | -25.0 to 25.0 | -0.43633231 to 0.43633231 |
| LWristPitch | Left Wrist joint (Y) | -56.0 to 56.0 | -0.97738438 to 0.97738438 |
Legs (Romeo Robot):
| From ... | To ... | X (mm) | Y (mm) | Z (mm) |
| --- | --- | --- | --- | --- |
| TrunkYaw | LHipYaw | 0 | 96 | -344.3 |
| LHipYaw | LHipRoll | 0 | 0 | 0 |
| LHipRoll | LHipPitch | 0 | 0 | 0 |
| LHipPitch | LKneePitch | 0 | 0 | -321.1 |
| LKneePitch | LAnklePitch | 0 | 0 | -290.1 |
| LAnklePitch | LAnkleRoll | 0 | 0 | 0 |
| LAnkleRoll | LToePitch | 118.0 | 0 | -41.4 |
| From ... | To ... | X (mm) | Y (mm) | Z (mm) |
| --- | --- | --- | --- | --- |
| TrunkYaw | RHipYaw | 0 | -96 | -344.3 |
| RHipYaw | RHipRoll | 0 | 0 | 0 |
| RHipRoll | RHipPitch | 0 | 0 | 0 |
| RHipPitch | RKneePitch | 0 | 0 | -321.1 |
| RKneePitch | RAnklePitch | 0 | 0 | -290.1 |
| RAnklePitch | RAnkleRoll | 0 | 0 | 0 |
| RAnkleRoll | RToePitch | 118.0 | 0 | -41.4 |
---
Anatomy (Romeo Robot):
Product:
Country: Japan
Company: SoftBank Robotics Corp
Keywords: robot, robotic, robotic news, news, romeo robot, romeo, humanoid robot, cfp