Robot Draw - Part Three: A Simple Robot
2

Robotic Education: Before designing a robot, you have to first draw a symbol of the original robot in your mind and then draw it on paper or software. So, in the third part of this tutorial, we'll look at how simple robot are drawn to create conditions for creating a simple robot.
Step 1: Draw the head and the body. For the body, draw a simple box then draw a curved line on top of it for the head.
Step 2: Draw the limbs. Attach curved rectangles to the body for the limbs.
Step 3: On the head, draw 2 small circles for the robots eyes.
Step 4: Add design on your robot. For this illustration add smaller circles on the top and the bottom of the body as bolts.
Step 5: Draw lines on the hand and feet to add design on your robot. Add two curved rectangles on each of the robot's hands.
Step 6: Erase unnecessary lines.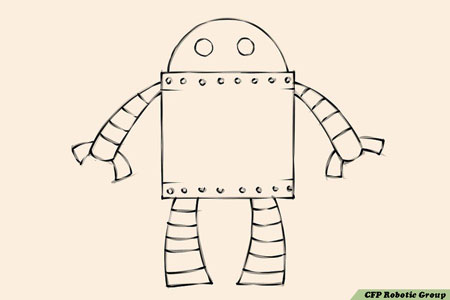 "Finished - Draw a Simple Robot"
Labels:
Keywords: robotic, robotic education, draw a simple robot, simple robot, cfp